Froli Travel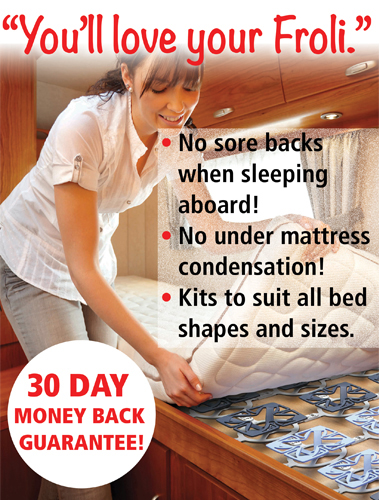 Don't change your mattress...
...use Froli® Travel under your existing foam mattress for a perfect night's sleep - anywhere!
• Gives orthopedic support to your whole body
• No more under mattress moisture or mildew!
• Modular construction - easy to install
• Kits to suit all bed sizes.
Froli® interlocking springs provide the perfect mattress foundation for
• Boats
• Caravans • Camper trailers • Mobile homes • RVs
• Spare beds at home • Holiday homes
Low profile: Approx 38mm height!
Compact construction height makes Froli® Travel Sleep System perfect for mobile sleeping zones.
The modular system fits any shape bed and keeps air circulating beneath the mattress to prevent condensation and mildew!
Watch our video to see how Froli Travel works:
Choose from our standard size kits.
Download our template to calculate your bed size.
Or let us design a kit to suit your sleeping zone.
Contact us for details! We will need the following measurements:
Width at head

Width at foot

Length down the middle

Any cutouts or curvatures.
30 DAY - MONEY BACK GUARANTEE!
We are so sure that a Froli® Sleep System will improve your sleeping comfort and eliminate moisture under your cushions, we will refund your money, if you are unsatisfied, if returned to us within 30 days!
How it works:
Highly flexible synthetic elements offer excellent comfort and suspension for an orthopedically correct night's sleep. Moulded from DuPont's Hytrel® polyester elastomer, Froli® elements are placed underneath a regular cushion or mattress. Softer elements align with shoulder and hip position, firmer elements align with the lumber and leg positions, to provide perfect support for the individual shape of your body. Adjustments can even be made to accommodate variations between partner size and weights, creating 'his' & 'her' sleeping zones. Air circulation underneath the mattress ensures a recuperative sleeping environment and under-bunk moisture is eliminated.
---